Historic Investments in Louisiana's Future
"I recognize the tremendous opportunity the Bipartisan Infrastructure Law represents for our state. These investments in infrastructure will transform Louisiana by providing much needed repairs to our roads and bridges, delivering broadband internet to every household, ensuring resilient coastal infrastructure, updating water systems, addressing legacy pollution and advancing Louisiana's Climate Action Plan."   – Governor John Bel Edwards
---
Louisiana BIL and IRA Funding
Over $10.1 billion in Bipartisan Infrastructure Law and Inflation Reduction Act funding has been announced for Louisiana. Below are selected funding highlights.
$10.1 billion
announced for Louisiana
$3.84 billion
for Roads, Bridges & Safety
$1.29 billion
for Resilience of infrastructure
$1.58 billion
for Clean Energy & the Power Grid
$1.58 billion
for High-Speed Internet
$258 million
for Water systems
$202 million
for Public Transportation
$164 million
for Environmental Remediation
$164 million
for Electric Vehicles
$353 million
for Airports, Ports & Rail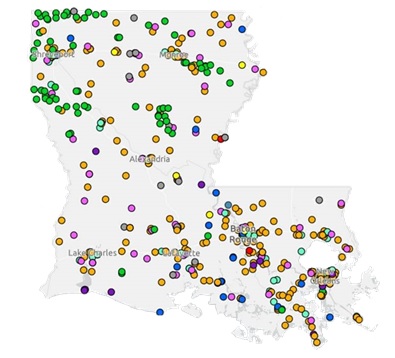 About the BIL
On Nov. 15, 2021, the Infrastructure Investment and Jobs Act, also known as the Bipartisan Infrastructure Law, was signed into law. With the passing of this legislation, states and local governments have an opportunity to make improvements in roads, bridges, safety, public transit, resilience, electric vehicle charging, ports, rail and environmental remediation, as well as increase access to clean water, internet and jobs.